He said to Step up Bio-Technology interventions to make agriculture more viable and sustainable.
Setup innovation departments in schools & colleges
VP calls on young Innovators to take lead in transforming Aspirational Districts
Reorient education and training systems to foster out-of-box thinking and problem-solving approach
VP describes Prime Minister as a "great transformer"
VP Presents Gandhian Young Technological Innovation (GYTI) Awards 2019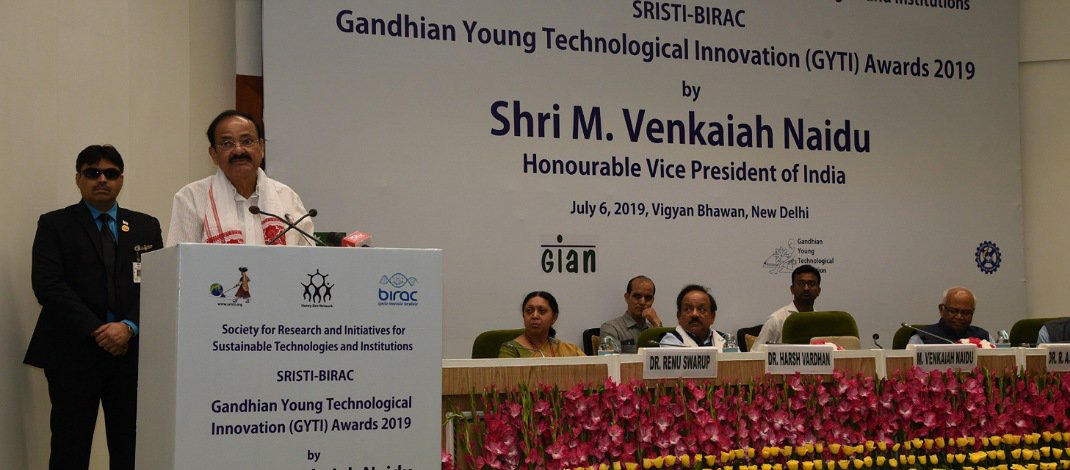 New Delhi : The Vice President of India, M. Venkaiah Naidu has called for creating a National Innovation Movement to promote path-breaking ideas and innovations that improve the living conditions of the people and generate wealth.
Speaking after presenting Gandhian Young Technological Innovation (GYTI) Awards-2019 at a function organised by the Department of Biotechnology, here today, Shri Naidu stressed the need to tap the huge talent present in every section of the society across the length and breadth of the country to build a new and inclusive India.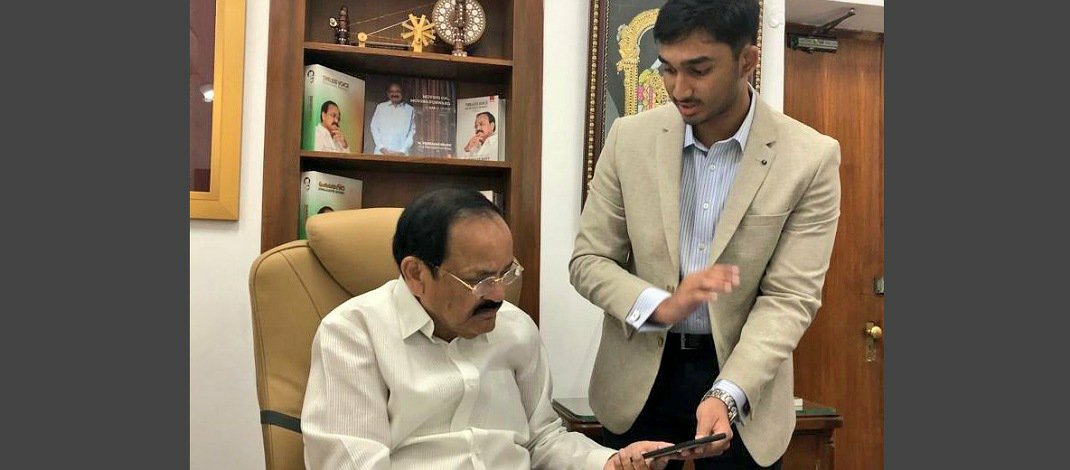 Complimenting the awardees, the Vice President urged the young scientists to come up with simple, low-cost but hi-tech innovations to make people's lives more comfortable and address challenges such as pollution, climate change, diseases, not-so-profitable agriculture, and low-efficiency industrial processes.
He complimented the young innovator Ritwik Papani, 11th standard student, for developing an app to send sms reminders to parents on immunization schedule so that their children get immunized on time.
Citing an example, the Vice President referred to the machine invented by Telangana weaver Chintakindi Mallesham, who developed Asu machine, an innovative indigenous device that reduces the drudgery and time taken to weave a saree from about 6 hours to an hour and half.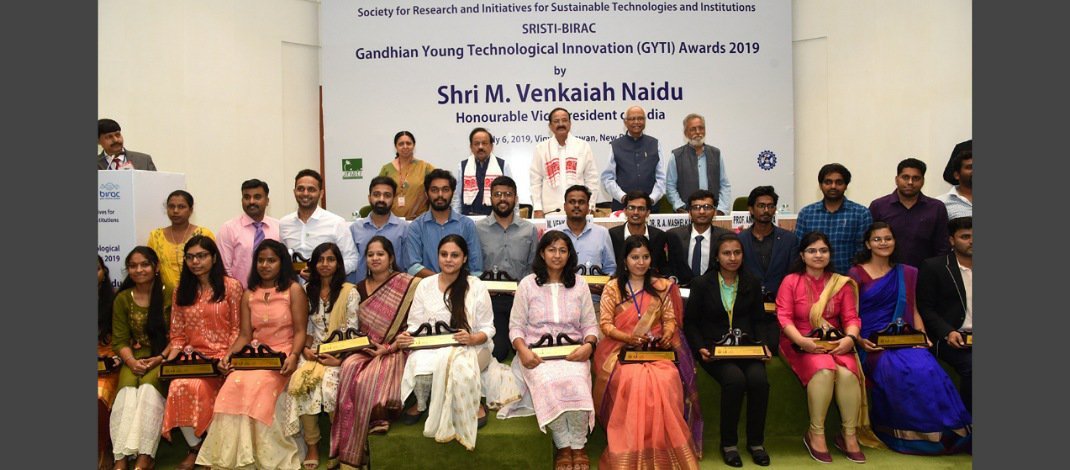 Shri Mallesham was honoured with Padma Shri for his invention and a film was also made on his journey and achievement.
The Vice President visited the exhibition on innovations of the 21 awardees on the sidelines of the event and spent considerable time enquiring about the utility of their innovations to the common man. His visit to exhibition has filled him with optimism that the country would achieve faster economic development and technological achievement in the near future, he added.
Calling for stepping up Bio-Technology interventions to make agriculture more viable and sustainable, he said there was a need for a greater focus on allied sectors like animal husbandry, dairy, fisheries, apart from other vital areas such as health, nutrition, environment and biodiversity conservation.
On the plans to make India a five trillion dollar economy by 2025, Shri Naidu said the engines driving this growth would be start-ups and digitisation. In this context, he suggested that every school and college should setup innovation departments and promote the culture of entrepreneurship.
The Vice President said that the Government has identified 117 Aspirational Districts for their overall transformation and exhorted the young innovators to be part of the mass movement to transform those districts.
Referring to the call given by the Prime Minister, Shri Narendra Modi "to reform, perform and transform", Shri Naidu said there was a lot meaning in that message and added that he had no hesitation in describing the Prime Minister as a great transformer since elections were over now. He recalled that former US President, Mr. Barack Obama had called Shri Modi as 'Reformer-in-Chief', in a profile penned by him to the Time Magazine.
He said the transformation of the nation is for the betterment of the lives of the people and innovation plays an important role in this process.
Observing that trained and capable youth must become the drivers of innovation in India, the Vice President called for enhancing their skills and encouraging them to explore the unchartered territories. He also called for reorienting education system to foster out-of-box thinking and problem-solving approach.
In this aspect, the Vice President suggested making good use of government schemes such as Digital India and Atal Tinkering Labs was the need of the hour for India to emerge as a global innovation hub.
Shri Naidu paid rich tributes to late Dr. Syama Prasad Mookerjee on his birth anniversary today and said that he would always be remembered for his Parliamentary brilliance, great oratorical skills and for laying down his life to uphold the status of Jammu and Kashmir as an inalienable and integral part of India.
The Union Minister for Health & Family Welfare, Science & Technology and Earth Sciences, Dr. Harsh Vardhan, Dr. R.A Mashelkar, Chairman of BIRAC SITARE,Gandhian Young Technological Innovation (GYTI) program, Dr Renu Swarup, Secretary, Department of Biotechnology (DBT), Prof, Anil K Gupta, CSIR Bhatnagar Fellow and Founder Honey Bee Network were among those present.