Year End Review: Department of Youth Affairs

Youth Volunteers participate in successful implementation of Vaccine Rollout campaign ; 2.22 lakh

activities organized with 1.27 crore Youth Volunteers

A total of 6.37 lakh kilometres covered by 1.59 Lakh Youth through Cycle rallies and Pad yatras under Azadi ka Amrit Mahotsav celebration

Nearly 8.3 lakh Volunteers participated in Nutrition Awareness Campaigns under Rashtriya Poshan Maah-2021

Around 1.07 Crore Kgs waste collected with the total participation of 56.62 lakh youth under month-long Clean India Programme

More than 4000 webinars organised on Ek Bharat Shreshtha Bharat

Youth Volunteers participate successfully in a wide range of activities like Deepotsav, exhibitions, blood donation, cultural activities , Mashaal Yatras among other in 3 Days' Ganga Utsav;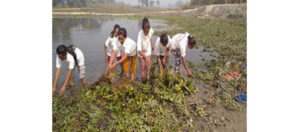 New Delhi :   The major highlights of the Department of Youth Affairs during the year 2021 are as follows:
Ek Bharat Shrestha Bharat Programme (EBSB) through virtual mode (Webinar)
Ek Bharat Shrestha Bharat Programme is a flagship campaign of Govt. Of India which aims at celebrating unity in diversity of our nation, promote spirit of Ek Bharat Shrestha Bharat, develop understanding and appreciate and establish long term engagement between states, share culture, tradition, cuisines, language and different practices and thereby create better understanding and bonding between states.
As the current calendar year was marked by COVID-19 pandemic, Nehru Yuva Kendra Sangathan (NYKS) and National Service Scheme (NSS) considering the priority and significance of the programme, organized EBSB through virtual mode by using PPT Format between paired states. NYKS has successfully organized 07 Webinars at National Level among paired States on Language Learning with the participation of 4,885 youth. Subsequently, the PPTs were shared and discussed through State Level, District Level and Block Level Webinars among Officials, Youth Volunteers, Members of Families and others. The details of which are as following:
| | | |
| --- | --- | --- |
| Level | No. of Webinar Organised | No. of participants |
| National Level | 7 | 4,885 |
| State Level | 179 | 24,624 |
| District Level | 1,588 | 94,085 |
| Block Level | 2,668 | 99,100 |
| Total | 4,442 | 2,22,694 |
45 National level and 1,143 unit level EBSB webinars were also organised by NSS between paired States/UTs with participation of 1,45,900 NSS Volunteers and NSS Programme Officers.
National Youth Parliament Festival
        The aim is to hear voices of youth through deliberations at district, state & national levels, to encourage and to engage youth with public issues, understand the common man's point of view, form their opinions and express it in an articulate manner and to obtain and document their opinions on Vision of New India.
        District Youth Parliaments were organized through virtual mode at 150 District Venues in which 698 Districts (both NYK Districts and Non-District NYKs) from 36 States and UTs in which total 2,34,428 youth participated.
       State Youth Parliaments were organized through  virtual mode  with the total participation of 1,345 youth. 84 State level Winners from each State took part in the National Youth Parliament at Delhi  on 11th& 12th January, 2021.
       The three best speakers at the national level were awarded Rs 2 lakhs, Rs 1.50 lakhs and Rs 1 lakh respectively along with a certificate of merit. Every participant was given a certificate of participation.  The prizes and certificate of merit were given away by Shri Om Birla, Hon'ble Speaker, Lok Sabha.
       Prime Minister addressed the attendees of the National Youth Parliament Festival 2021, on 12th January, 2021. He lauded the winners and final panelists of the second National Youth Parliament Festival. Addressing the event via video conference, The Prime Minister had said "your dialogue and deliberations today are very important. As I was hearing you speak, a thought came to me and I decided that I will tweet your presentations from my twitter handle, not just you three winners but, if recorded material is available, I will tweet the speeches of all those who were on the final panel yesterday." The address of Hon'ble Prime Minister was viewed by 27,53,626 NYKS officials, Youth and others viewed Two Days functions of NYPF 2021 on Lok Sabha TV and webcast by NIC. 
National Road Safety Month
     National Road Safety Month was observed by NYKS in coordination with Ministry of Road Transport and Highway from 18th January to 17th February, 2021 across the country.
     The aim of the month long campaign was to create awareness among youth in particular and people in general to improve and follow the safety measures on roads and provide opportunity to all stakeholders to contribute in road safety.
     NYKS with the support Youth Volunteers, Members of Youth Clubs and other stakeholders had undertaken total l6,619 activities such as Walkathon, Pledge and Women's Two Wheelers Rally with the participation of 13.22Lakhyouth in particulars and people in general.
Celebration of Azadi Ka Amrut Mahotsav- 12th March 2021   
To commemorate the 75th Anniversary of India's Independence as part of Azadi Ka Amrit Mahotsav and to celebrate it as a Jan-Utsav in the spirit of Jan-Bhagidari. NYKS conducted following programmes:
Freedom March: Shri Narendra Modi, Hon'ble Prime Minister flagged off the 'Padyatra' (Freedom March) from Sabarmati Ashram, Ahmedabad and inaugurated the curtain raiser activities of the 'Azadi Ka Amrit Mahotsav' (India@75).
In a contingent of around 81 marchers, 15 permanent marchers included Youth Volunteers of NYKS. On the event of curtain raising, 100 youth volunteers participated.
Pad Yatra from Qutub Minar: In line with the freedom March of Sabarmati, a Pad Yatra was organised by Nehru Yuva Kendra Sangathan in which around 500 Youth Volunteers participated. The Pad Yatra was flagged off by Secretary (Youth Affairs), MoYAS; Joint Secretary (Youth Affairs) and Director General NYKS.
Cultural Programmes in Qila Rai Pithora: The Pad Yatra ended at Qila Rai Pithora in Delhi. A series of cultural programmes were organised by Archaeological Survey of India.
Conduct of Activities in 623 District NYKs: NYKS celebrated the day in its 623 District NYKs. The activities conducted include Garlanding on the portrait of Freedom Fighters, Singing of National Song and National Anthem, Photo exhibition, Lectures by Subject Experts, Youth Parliaments, Declamation, essay writing, slogan writing, theme based cultural programmes, yoga etc. A total of 14.27 lakh youth participated in these various activities. Also, Cycle Rallies and Pad Yatras were also organised in District NYKs. A total of 6.37 lakh kilometres were covered by 1.59 Lakh Youth through 2134 activities of Cycle rallies and Pad yatras.
COVID Vaccine Rollout
    Nehru Yuva Kendra Sangathan undertook this initiative in light of direction from Prime Minister to include NYKS in the successful implementation of COVID Vaccine Rollout. NYKS through its District NYKs are contributing in the COVID Vaccine Rollout Campaign with the support of their National Youth Volunteers and Members of Youth Clubs throughout the country.
    The key activities undertaken was dissemination of correct information on the benefit of Vaccine, building confidence regarding vaccine safety, encouraged people to adopt appropriate behaviour and environment building on universal vaccine acceptability across the country.
     As part of the programme, 2.22 lakh activities were organized with the participation of 1.27 crore Youth Volunteers, Members of Youth Clubs and Others.
Tika Utsav
In light of sharp rise in number of COVID infected cases and death toll caused to it, NYKS had organized Tika Utsav- a comprehensive programme of testing and vaccination from 11th April, 2021 (being birthday of Jyotirao Phule Ji) to 14th April, 2021 (being birthday of Dr. B.R. Ambedkar).
NYKS had undertaken various designated activities focused on Awareness dissemination and community mobilization for pro-active testing and encourage eligible people for vaccination, Building public confidence regarding vaccine safety and addressing fears over adverse impact and environment building for universal acceptability, Encouraging people to adopt COVID-19 appropriate behavior and Motivating people to follow COVID-19 protocol.
NYKS as part of the programme, conducted 47,638 activities through which a total of 10.29 Lakh people were reached out and motivated for Covid Tikakaran.
Initiatives and Services of NYKS and NSS to the Nation during second wave of COVID-19: Prevention, Management and Relief Activities across India
The Department of Youth Affairs, through NYKS and NSS, focused on the key priority areas like Awareness on Vaccine rollout and registration, IEC activities including Do's and Don'ts for Preventing and Mitigating COVID – 19, Formation of Social WhatsApp Groups, Aarogya Setu App – Downloading, using and referencing, Social Distancing, Hand washing, Popularizing and motivating people Masks Preparation at Homes and Enhancing Youth Volunteers Base for wider coverage and reach across the country as well as Registering and Training of Volunteers on iGOT as well as through other agencies.
UNICEF supported Young Warriors Campaign
5,679 Virtual Training Programme were conducted with the support of UNICEF. During the training, the subjects like process for registration and taking pledge to act as Young Warrior,COVID Appropriate Behaviour programmes to contain further spread of COVID-19 (Wearing of face mask, maintaining social distancing, Sanitization and Washing of hands at regular intervals), Encouraging people to De-stigmatize COVID-19, etc. were covered.  Through these training programmes, 3,09,850 NYKS officials, COVID Warriors, Members of Youth Clubs, Ganga Doots, Disaster Response Team Members and other stakeholders across the country were trained. 2,88,827 youth and others got registered themselves as Young Warrior.  2,52,604 youth took pledge to act as Young Warrior.
Other major achievements
The contact details of NYKS Nodal Officers of State and District has been updated on COVID warrior portal.
Nearly82,381youth volunteers were trained on iGOT Portal for DoYA .
In almost in all Districts, NYKS Volunteers are promoting making of Face Masks at Home as well as Preparing and distributing face masks to needy and how to use them and sensitized people.
1,91,265Families were sensitized to take special care of Elderly People in their families for their Protection against COVID-19 across the country
89,265 peoplewere sensitized to support families with persons infected with COVID-19.
27,116 Volunteers and Officials of NYKS have been engaged by District Administration and Gram Panchayats for facilitating various services and handling crowds at places. Besides, the activities such as Public announcements, Working in Control Rooms set up by the District Administration/Police have also been carried out.
1,27,078 NSS volunteers joined hand with the district administration for various activities like maintaining social distancing at hospitals, banks, provision of food material to needy and help to the elderly people of the society. They have sensitized 1.47 crore people on various aspects of Corona virus including safety tips.
Motivated by the NSS volunteers across the country 52.90 lakhs people downloaded ArogyaSetu App. The volunteers also reached 2.34 crore people for distribution of face mask.
As far as COVID-19 Jan Andolan movement is concerned, NSS Units reached up to 2.64 Crore people in the country.
7th International Yoga Day -21 June, 2021
Theme of 2021: "Yoga for Wellness"
Due to the contagious nature of COVID-19, NYKS and NSS conducted the 7th International Yoga Day through virtual mode. NYKS organised Yoga activities through 623 District level functions in which 4.30 Crore people took part in 2.33 lakh activities.  75.94 lakh families from 2.23 lakh villages were mobilized. NYKS was able to motivate and connect the people from Kashmir Valley, Leh, Andaman Nicobar, North Eastern Region and Naxal Affected Arreas. Yoga demonstration and various activities like Online Competitions, Webinars and other activities on Yoga theme were organized where 17,50,927 NSS Volunteers across the country participated.
#Cheer4India Run Tokyo 2020:
   NYKS organized #Cheer4IndiaRun Tokyo 2020 programme to motivate, cheer and express solidarity with the participating Indian Contingent in Tokyo Olympic 2020.
    As part of the above programme,NYKS organized 20 state level activities which included Talk by Experts, Flag-off, Display of Banners and other publicity materials followed by Running of 5-7 Km at State Capitals across the country. A total of 11,190 people including NYKS Officials, Volunteers and others participated in the programmes.
    Besides, for creating enabling environment, message amplification and Buzz creation of the programme, social media platforms such as Twitter, Facebook and Instagramwere used extensively. The hashtag #Cheer4India was propagated on Twitter and Facebook with 1,58,286 Impression and 12,499 Likes.
Celebration of Swachhta Pakhwada from 1stto 15th August, 2021 – aim is to create awareness about swachhta and facilitate implementation across the country and motivate youth in taking a lead role for undertaking cleanliness & hygiene campaign by mobilizing local resources.  14.71 lakh youth participated in various activities such as Swachhta Shapath, Lectures and Seminars, Debate and Declamation Competitions, cleanliness drives, Door to door campaigns, Run for Swachhata and Rallies organised by NYKS across the country.
NSS also observed Swachta Pakhwada by organising swachhta awareness programmes and activities in the premises of their academic institutions, nearby vicinity, adopted villages, slum areas, parks, hospitals etc. in which a total number of 9,36,656 Volunteers from 11,311 Institutions participated across the country.
Fit India Freedom Run 2.0 as part of Azadi Ka Amrit Mahotsav (13th August 2021 to 2nd October, 2021)
     As a part of Azadi Ka Amrit Mahatosav, NYKS conducted Fit India Freedom Run 2.0 with the objective to encourage people to take up fitness activities such as running and sports in their daily lives and to  make people adopt  healthy and fit life style. The Programmes were conducted in 64,699 villages of 744 Districts across the country. The key activities undertaken are Pledge, Singing of National Anthem, Fit India Freedom Run and Participants carrying National Flags. 77,582 runs were organized with the participation of 57.25 lakh Youth and others and through this, 4.24 crore Kms of distance were covered.
NSS also organised 9 national level Fit India Freedom Run activities from 13th August to 2nd of October, 2021. A total of 32,47,430 participants including NSS volunteers from 29,304 Institutions across the country took part in this events.
Clean India Programme (1st October to 31st October, 2021)
As a part of Azadi Ka Amrit Mahatosav, NYKS under the guidance of Deptt of Youth Affairs, MoYAS undertook the activities of "Clean India" Program from 1st October to 31st October, 2021. The program is aimed at creating awareness, mobilization of people and ensuring their involvement in the Clean India initiative which is unique in terms of scale and participation.
Union Minister for Youth Affairs and Sports Shri Anurag Thakur launched the nationwide Clean India Programme from Prayagraj. Aim was to organize activities to clean waste mainly Single Use Plastic waste throughout the country from 01st October to 31st October 2021 along with maintenance and beautification drives for historical monuments and heritage sites, community centres, Youth Club/Mahila Mandal Buildings, School Buildings, Panchayat Buildings etc and cleanliness and maintenance of Traditional Water Bodies through voluntary work camps. The programmes have been organized through the approach of Janbhagidari to Jan Andolan.
This program was organized in 3.31 Lakh villages where 4 Lakh activities of waste collection and cleanliness drives were conducted. More than 1.07 Crore Kgs waste was collected by NYKS; youth club members, volunteers and other segments of the society out of which 1.05 Crore Kgs waste was disposed of properly. 50 Thousand Monuments cleaned & sites developed, 25 Thousand traditional water source renovated & maintained and more than 83 Thousand Schools, PHC & Community Places cleaned & beautified with the total participation of 56.62 lakh youth. A total of 21,98,012 NSS volunteers collected 14,10,750 Kgs of Plastic in this nationwide clean India campaign.
Catch the Rain Project Where it falls, When it falls in collaboration with National Water Mission, Ministry of Jal Shakti
       The aim of the project is to make aware and educate youth leaders and volunteers, families and village communities on the manifold issues and need of water conservation and rain water harvesting and empower youth to assume lead role for educating people to practice. Key Activities of the ProjectincludesSensitization of NYKS Officials,National Level Launching,District Level Launching, Oath on Water Conservation, Orientation and Motivation of Youth Leaders and Volunteers, Advocacy and Environment Building for participation and support for Water Conservation, Awareness and Education,Community Mobilization and Motivation, Water Talks and Dialogue, Knowledge Competitionand Community Work Camps on Voluntary basis.
First Phase of the Catch the Rain Project (January to March, 2021)
             A total of 2.27 crore citizens reached/involved by Nehru Yuva Kendra Sangathan(NYKS) through 16.31 lakh designated activities under the First Phase of Catch the Rain Project.
             NYKS conducted Shraamdan – Community Work Camp on Water Conservation under Catch the Rain Project on the occasion of Birth Anniversary of Dr B R Ambedkarji on 14th April, 2021 in which 1,88,813 persons were benefitted from 1589 activities.
 Second Phase of the Catch the Rain Project (October, 2021 to January, 2022)
A total of 32.46 lakh citizens reached/involved by Nehru Yuva Kendra Sangathan(NYKS) through 2.97lakhs designated activities under the Second Phase of Catch the Rain Project.
Celebration of Constitution Day (Samvidhan Diwas) on 26th  November,  2021
The aim is to enable the present generation to know the Fundamental Duties, to emunicate qualities of Responsible and Productive Citizen and to spread the importance of the Constitution of India, messages of Dr. B.R. Ambedkar on equality and affirmative actions and how these are helpful towards the growth and development of our country.
NYKS observed Constitution Dayon 26th November 2021, a total of 8.85 Lakh NYKS Officials, Youth Volunteers and other associated stakeholders read Preamble of Indian Constitution along with Hon'ble President of India and also participated in various activities such as participation in Quiz on Constitution, Administering of Pledge on Fundamental duties, awareness talks, Dissemination of Public Message on Fundamental duties, Organizing Webinars /Workshops.
Involvement of Youth in Namami Gange
     The objective is develop a Cadre of trained and highly motivated local youth to take up envisaged activities under the project, to establish an institutional mechanism at different levels of the project for support, guidance, transparency, to sensitize and mobilize support of local youth and villagers pertaining to prevention of pollution of river Ganga and measures for its conservation, to generate awareness and educate target audiences about the consequences and impact of polluted Ganga and to provide information on existing government programmes, schemes, and services pertaining to construction of toilets, water harvesting, conservation etc. for clean Ganga.
     From Jan 2021 to November 2021, various activities were undertaken under the project by District Project Officer, Ganga Doots and Spearhead Team Members of Nehru Yuva Kendra Sangathan, Uttarakhand, Uttar Pradesh, West Bengal, participants & Bihar and Jharkhand.  The activities are as follows:-
32,437saplings were planted with the participation of 13,778 youth
9364Awareness programme activities with the participation of 47,295 youth
5208cleanliness drives were undertaken with the participation of 83,851 youth
731Door to Door Awareness activities were undertaken with the participation of 11,007 youth.
      During the period, other special activities were also undertaken:-
Nehru Yuva Kendra Sangathan also organizedGanga Swachhta Pakhwadafrom 16th to 31st March 2021 in which a total of 777 activities were undertaken wherein 13491 youth participated.
Nehru Yuva Kendra Sangathan also participated in the registration forGanga Quest. A total of 1,10,336 youth were registered
NYKS celebratedEnvironment Dayon 5th June 2021.  A total of 4548 sapling were planted (2994 local species and 1576 Medicinal).
Ganga Dussehrawas organized on 20th June 2021 in which Ganga Aarti, Padyatra, Awareness activities to clean and conserve River Ganga and also plantation were also undertaken.
Organisation ofGanga Utsavfor 3 days (1st to 3rd November 2021) in which 46555 diyas were lighted in Ganga Deepotsav, 42 Ganga Exhibition, 42 Painting Competition, 389 Cultural activities,17 Blood Donation and 42 Mashaal Yatra were organized with the participation of 60071 youth.
Investor Education and Awareness Programme (Ministry of Corporate Affairs)
Nehru Yuva Kendra Sangathan (NYKS) and Investor Education and Protection Fund Authority (IEPFA) have started a collaborative project for providing training on Investor Education, Awareness and Protection, Community Awareness to NYKS field functionaries and members of Youth Clubs to spread message of Investor Education Awareness and Protection to the last mile.
 Two Days Regional Level Orientation Programme on Investor Awareness and Education has been conducted on   09th & 10th December, 2021, at Chandigarh in which 23 State Directors, Dy Directors and District Youth Officers from  Punjab,  Himachal Pradesh and Jammu & Kashmir and Ladakh participated.
National Human Rights Commission (NHRC) Workshops through Webinars.
The objective of these Webinars was to make the youth in general and the rural youth in particular aware about the Human Rights, to make the Youth Clubs alert about Human Rights violations and the possible activities they can initiate to protect the human rights and to create a network of Youth Clubs who are working against Human Rights violations which will be a protective layer for the poor and the rural masses.
NHRC-NYKS have conducted 04 Human Rights Awareness Workshops through Webinars for NYKS Officials, National Youth Volunteers and Youth Volunteers from West Bengal, Bihar Assam, Meghalaya, Manipur, Sikkim, Maharashtra, Goa, Chhattisgarh, Madhya Pradesh, Tamil Nadu and Karnataka participated on 11th, 12th and 16th February, 2021 and 28th October, 2021, respectively, wherein the total participation is 4872.
Rashtriya Poshan Maah-2021: Poshan Maah was organized by the NSS Units from 1st -30th September, 2021. Total no of 8,28,721 Volunteers participated in Nutrition Awareness Campaigns and lectures on obesity eating disorders, impact of fast food and packaged food items  on the body & promotion of organic diets were delivered.
Gandhi Jayanti, 2021 Celebrations: The 152th Birth Anniversary of Mahatma Gandhi was observed in a befitting manner by the NSS across the country. On this occasion, various programmes such as Fit India Plog Run, Webinars, Lecturers, Online Essay Writing, and painting, Poster, Quiz and various competitions on Gandhian Philosophy were organized across the country where 11,29,892 NSS Volunteers across the country participated.
NSS Republic Day Parade Camp, 2021: NSS Contingent participates in the Republic Day Parade on Rajpath, New Delhi every year. In order to prepare the volunteers for such participation, a month-long Republic Day Parade Camp is organized at New Delhi in the month of January, wherein 200 (100 boys and 100 girls) NSS volunteers representing all the States and Union Territories of India are selected from 5 Zonal NSS Pre-Republic Day Parade Camps in the Country by a central selection committee.NSS Republic Day Parade Camps January, 2021 was organised at International Youth Hostel and Vishwa Yuvak Kendra, Chankyapuri, New Delhi. During the Camp, the NSS volunteers got an opportunity to meet the Hon'ble Prime Minister and Hon'ble Minister of Youth Affairs and Sports.
Netaji Subhash Chandra Bose 125th Birth Anniversary & Parakram Diwas, 2021: 125th Birth Anniversary of Netaji Subhash Chandra Bose was celebrated on 23rd January in a befitting manner by the NSS Units. To mark the occasion, "Parakram Diwas" was observed on 23rd January, 2021. The main activities include paying homage to Netaji Subhash Chandra Bose, Rallies, cyclothon,  webinars, lecturers, online essay writing, poster competitions, quiz on Netaji Subhash Chandra Bose philosophy and ideology, blood donation camps, cultural programme etc. were organized in which  10,52,497 NSS Volunteers participated across the country.